«Barely on my feet, I stood on skis, and already in second grade I wanted to become a cross-country skier. I didn't know about biathlon yet.
»
The cross-country ski races on winter weekends have always been my highlights. Growing up on small organic farm in Isola between Sils and Maloja, I often spent exciting times on my way school on my bicycle, my cross-country skis or on foot.
In kindergarten, I was often pulled over the frozen Lake Sils from our speedy farm dog, this is how I learnt to love speed. I enjoyed working on our farm, and looked after our goats high in the mountains below Piz La Margna, and helped to hay or to make cheese.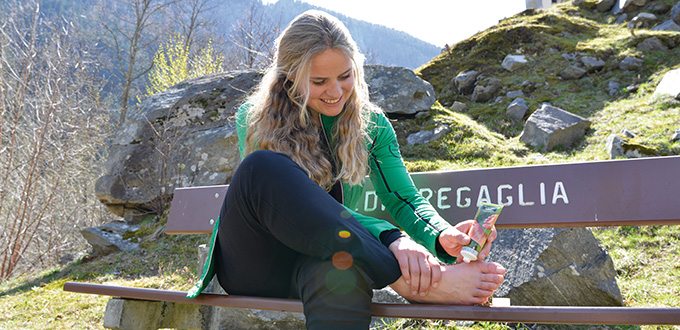 Part of every mountain hike. The soothing "refreshment" for the feet with the SOGLIO foot care balm.
Classical Ballet
Moreover, I have danced classical ballet and played the violin for many years. This all belongs to the foundation of my success today. Around 16/17 I changed to biathlon. Fortunately, school was relatively easy for me. When I turned 19, I finished the Matura, and entered the recruit school with a focus on sports, and when I turned 20, I began my education as a border guard.
Bregaglia – Irene's Home
Irene grew up in Bregaglia and still considers the valley her home. Between training and competition her home gives her the necessary support and energy for her sports.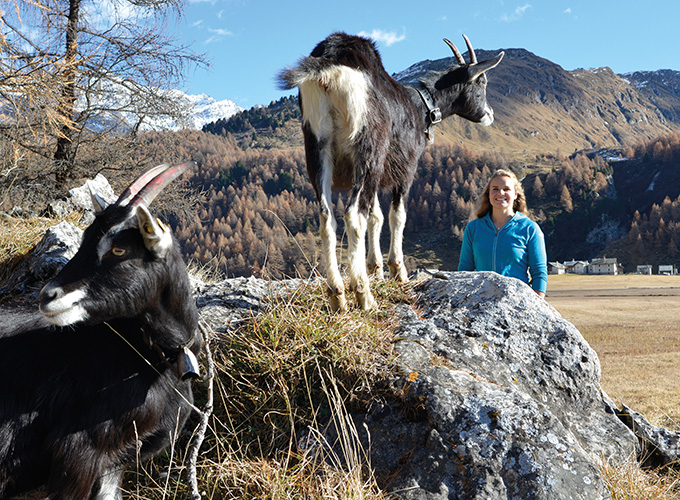 Irene in Isola, on the goat farm of her sister.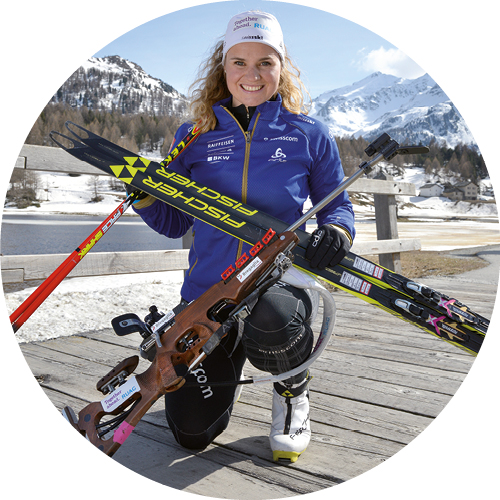 "Precision & Dynamics"
My motto is not an empty catchphrase.
Irene and SOGLIO-Products
Ever since her childhood, Irene was familiar with the products of SOGLIO. The calendula cream and the foot cream had already been used by her mother. Today, Irene uses Soliofit against tired legs and sometimes against tensions before and after sports. Solar 7 is her go-to product. This protects her skin from the intense winter sun ideally.
In her Leisure Time
When Irene has free time between her training, her competitions and her work, she likes to be with her loved ones in her village, at home with her family. She enjoys the quiet of the mountains. Depending on the weather, she does some activities like hiking, climbing, etc. Going out and the club scene in the Engadine are not her thing. Her friends she rather meets at occasional parties.
Being a Professional Biathlete
Irene has been a professional biathlete for five years. After a first successful year of competing, she had some setbacks due to an injury. However, in the last three years, her performances and achievements have been improving in high speed, which can be seen in her results in the 2016 IBU Cup and her participation in the 2018 Winter Olympics.
QUESTIONS? CALL US +41 (0)81 822 18 43
Our consultation line is open from Monday to Friday, 08.00 to 12.00 and 13.30 to 17.30


Contact Switzerland
SOGLIO-PRODUKTE AG
Via Principale 21, 7608 Castasegna / Switzerland
Tel. +41 (0)81 822 18 43
Fax +41 (0)81 822 19 70
mail@soglio-produkte.ch