It all began

very small
In 1979, Walter Hunkeler, a chemical lab technician with experience in microbiological research, installed a laboratory in his residential house in Soglio. There he experimented with goat butter, which he and his wife processed to a rheumatic ointment and a massage balm. While the first dispatches were run through acquaintances and valley visitors, their products were soon introduced into the first shops. During this time, Hunkeler met Martin Ermatinger, a business economist, who worked for the financial administration of the Canton of Thurgau and was interested for the economic development of the Alpine area, and who dreamt of building something of his own in the mountains.
Professionalization of the Enterprise
The loose collaboration between Ermatinger and Hunkeler consolidated, when they established a collective partnership in 1986. Ermatinger knew that an enterprise with natural products had potential – it only needed to be developed. For this, they needed more space than a laboratory in a residential house. SOGLIO moved to Castasegna, into the empty premises of the former hotel Croce Bianca. On two floors, there was enough space for the production, a control lab, storage, administration and sales. Step by step the professionalization of the enterprise came to light. Instruments and machines for the production of emulsions and bottling the products were acquired, a marketing concept and advertising materials were developed, and a system for sales and distribution was created.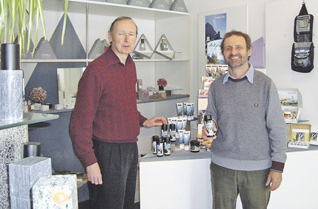 Visionary heads of SOGLIO products: Martin Ermatinger (left) and Walter Hunkeler in their retail store.
DThis goes parallel to the development and improvement of skin care products with the highest quality. Alongside goat butter, we put a new focus on herbs and sheep whey, flowers, essential oils, which all originated from local producers or were bought from organic farmers in Grisons, as well as other ingredients, tailor-made for our formulas. Together with the rheumatic ointment, a shampoo, the calendula creme and a moisturizer became the first small product line. Meanwhile – after 40 years of production and experience – we count over 50 products in our range. The STONE perfumes, the prominent stone bottles for perfumes and eau de cologne that are manufactured by a stonecutter from Castasegna, are an additional specialty of our enterprise.
---
 Source: Engadiner Post – April 2009
---
A Life Between Wilderness and Culture
In his earlier years, Walter Hunkeler had often used his head.
The decision to make a difference with his hands and heart instead did not only pave his way to Grisons,
but also to the idea for SOGLIO-Products
It's early afternoon, the sky over Soglio is overcast. Nevertheless, a few tourists have found their way into the small Bregaglian village that Walter Hunkeler calls his home. The weather does not affect his mood, and he swiftly walks through the mediterranean village, greeting the people as he passes. His destination is a garden where the fruits of his life's work have been growing over the past years.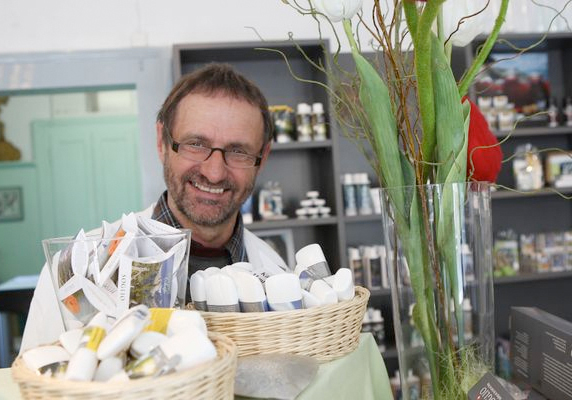 Walter Hunkeler in the SOGLIO retail store in Castasegna.
Originally from Basel, Hunkeler has lived and worked in Soglio since 1975, together with his wife Sonja."In Basel I worked as a microbiologist, most recently at the renowned Basel Institute for Immunology." This work however was too far away from real life for Hunkeler, and, influenced by the animated zeitgeist of the 70s, he and his wife were looking for a place and occupation that was "closer to life". "I knew, in their overstructuralized entirety, humans are more than they believe themselves to be capable to do. Besides that, I always enjoyed being in the mountains and working crafts, which is why I eventually stayed in Soglio," he explains. Soglio is something very special: "It is a mix between Northern sharpness and Southern charm, Western science and Eastern wisdom." But most importantly, the people here still have a closeness to nature, which cannot be taken for granted nowadays. "There are not many real, intimate appreciators who capture nature with all their senses left anymore," Hunkeler says with regret.
«We are part of this world, part of nature, we don't stand next to it, but right in the middle.»
Chemistry is Nature, Too
UThe way he explains his garden, that provides the ingredients for the SOGLIO products, and his cultural environment, is how to understand these words. "We are part of this world, part of nature, we don't stand next to it, but right in the middle."
On the way to his sheep, Walter Hunkeler stops now and again, and points to flowers or insects, names them and explains their utilities and ingredients. St. John's wort, achillea, zygaenidae… "The zygaenidae moth produces hydrogen cyanide, a chemical, to frighten off its natural enemies," explains the biologist. He doesn't understand why so many people discredit a product that has a chemical name on it. "All human beings have a spirit, they invent and develop good things. But then, these things do not count as natural anymore." Without humans, according Hunkeler, there would be far less biodiversity in Bregaglia: "Human settlement in the Alps was an ecological gain." Through the open areas created by clearing woods, new species have found a home in the Alps – and this biological diversity is thus a cultural consequence, contrived by humans. "Up here you live between wilderness and culture, there are foxes, deer and martens everywhere, even in the village."
These thoughts are represented in SOGLIO-Products, starting with the first "Soliosan". "Eventually, we had to decide how to make our living. When we spotted goat butter at a farmer's market, which was used as a rheumatic ointment, we were immediately interested," he tells excitedly about the beginnings of his enterprise. He knew he was going to improve this product.
Many Ideas and A Lot of Work
In the first few years, Hunkeler had to learn a lot. Not only about plants and cosmetics, but the whole economical aspect of an enterprise. "In order to buy the ingredients for our products, we needed to found an enterprise first," Hunkeler remembered about these first years. Over time, the focus of the enterprise changed as they moved from medicine to cosmetics. More products were added, and in 2003, SOGLIO-Products became an Aktiengesellschaft. "My time, as well as my business partner's, Martin Ermatinger, is over now. But I can safely say that we have great people that will continue our work with the same spirit." He still has some ideas that he would like to see implemented in SOGLIO-Products, first and foremost his "Stone project". "My idea is to create town fragrances and sell them in specially-made stone bottles – the stone originating from the individual towns." He is still looking for somebody who can take on this project. Because the 65-year-old is already more than occupied with his animals and agriculture. "Of course, I love what I'm doing, but it's still a lot of work," he says with a smile.
---
Source: Bündner Tagblatt – September 2014
Our consultation line is open from Monday to Friday, 08.00 to 12.00 and 13.30 to 17.30
opening hours store in Castasegna
Monday to Friday, 08.00 to 12.00
and 13.30 to 18.00.

opening hours store in Soglio
From June to mid October
Wed* / Thu / Fri / Sat, 11.00 – 17.00
*from July