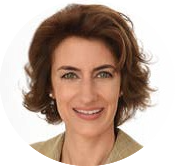 «Sustainability is based on three pillars that complement each other: responsibility for the environment, society and the employees, but also responsibility for economic business management.»
Petra Huber, Board of Directors
Bregaglia suffers especially from depopulation and out-migration due to a lack of job vacancies resulting from the geographical distance to the rest of Switzerland. The national border nearby accelerates this demographic decline additionally. Since its foundation, SOGLIO has set itself the goal of creating jobs in Bregaglia. In this way, the company contributes to the regional economic development and offers opposition to out-migration. Out of the 19 staff members, 14 employees are currently living in the Swiss Bregaglia.
The cooperation with regional partners creates added value within the region and provides new inputs. By creating new jobs, SOGLIO also brings qualified staff and knowhow to Bregaglia. To create additional jobs, SOGLIO aims for manageable growth through targeted product innovation and the development of new markets. Quality is central when it comes to new products: where necessary, modern technologies are employed to achieve a result that is as skin-friendly as possible.
As a family-run business, the owners are not interested in high dividends. Profits are reinvested into the company. The added value therefore stays in the valley and contributes to the long-term development of SOGLIO and Bregaglia. The name of the village as the brand name was chosen on purpose. By means of communication, gentle tourism is promoted and the regional economy is strengthened.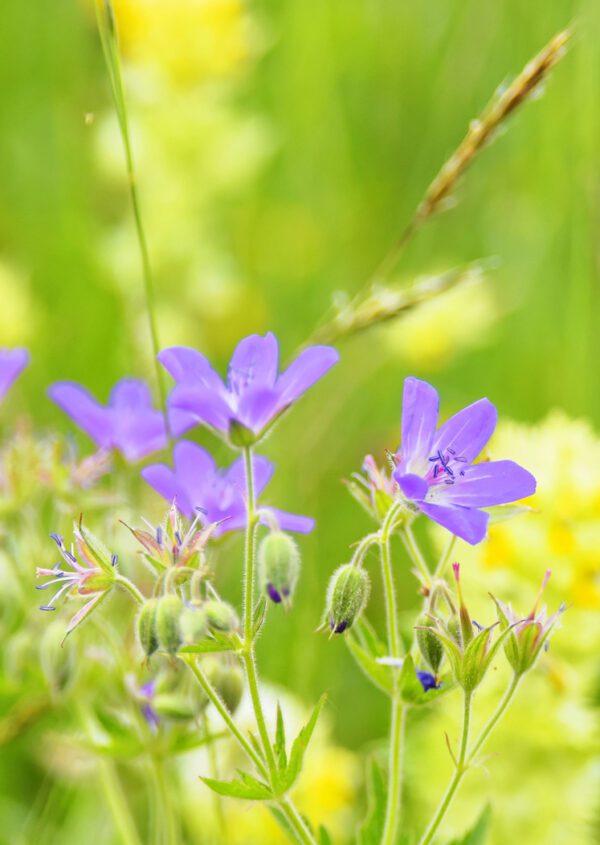 Since its foundation, SOGLIO actively supports a resource-conserving economy. Regionally and biologically produced alpine resources are refined to create high-quality personal care products. Because only a sparing and gentle agricultural cultivation preserves biodiversity as an invaluable asset for posterity.
Packaging is currently a widely discussed issue because it eventually ends up as waste. Nevertheless, packaging is needed to protect and distribute the products and to adhere to legal requirements. For this reason, SOGLIO takes care to use reasonable packaging and reduce it to the necessary minimum. Many products are also offered in large containers for a more attractive price, because refilling saves resources. Materials used are as lightweight and environmentally friendly as possible, usually PET plastic. This results in a smaller environmental impact during transport and a smaller ecological footprint. When required due to product stability, glass containers are used. Whenever possible, SOGLIO omits outer packaging. A cardboard box is needed for the protection of the aluminium tube of the comfrey cream, as well as for the SOGLIO fragrances due to the required product information. Gifts are wrapped with cardboard or cellophane made from renewable resources.
During shipping, plastic is dispensed entirely: SOGLIO uses scrap paper as a filler material, and when shipping large glass containers, additional protection is provided by compostable packing chips. Document cases and tapes are made of paper. SOGLIO strives to employ the latest packaging technologies. However, smaller companies in particular are not always able to promptly implement every new development due to the large minimum purchase volume.
SOGLIO aims to be a safe and attractive workplace. Long-term employment is valued greatly. Adequate wages and flexible working hours are important business prerequisites for SOGLIO ever since its foundation. Gender equality goes without saying. Jobs are allocated according to the respective requirement profile.
The remuneration corresponds to the individual's abilities as well as their education, role and experience. Within the company, wages are in a healthy proportion to each other, because all employees contribute an important part to business success. SOGLIO has an interest in the employees' further training and education. This benefits the employees' personal development and also creates new opportunities for the company. When it comes to investments, great value is placed on workplace safety and ergonomics so that physical efforts are reduced and the work can be facilitated.
Partnerships with suppliers are maintained on a long-term basis and are not exclusively built on commercial criteria. The quality and origin of the products are the first priority.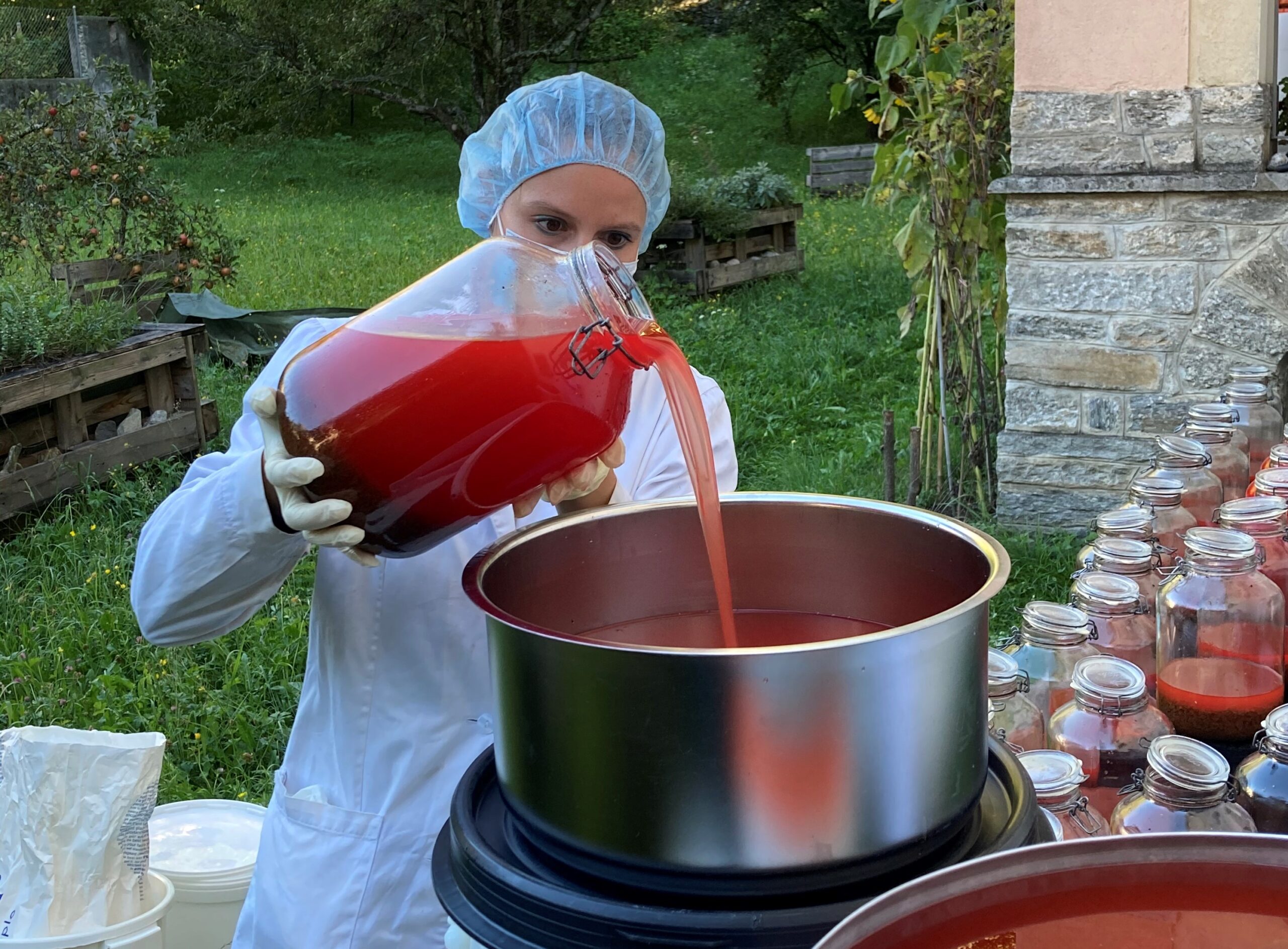 A model for entrepreneurial action
SOGLIO was nominated for the Public Eye Positive Award and the Terra-Grischuna Award in 2008. -> Learn more
A model for entrepreneurial action
The founders of SOGLIO, Martin Ermatinger and Walter Hunkeler, were nominated for not just for one but for two prizes in 2008: the Public Eye Positive Award and the Terra-Grischuna prize. These nominations resulted from the important growth impulses that were prompted in Bregaglia by the foundation of SOGLIO: a company that not only treats the alpine world with respect, but also promotes these values on the clients' side. A company that takes the characteristics of the alpine valleys into account, that generates added value and creates jobs. Because each of the company's products contains resources from the Swiss mountains. Large parts of the processed herbs and flowers originate from the village of Soglio. Calendula, comfrey, starflower and filipendula are planted and farmed biologically every year. Other plants – for example St. John's wort, nettles or chestnut leaves – are picked by hand in the wild. If the harvest is poor, additional herbs are purchased from Swiss mountain farmers or from fair trade. New projects and consequently more added value were also created by goat and sheep farming.
The close-to-nature personal care products are largely hand-made in Castasegna; new products are constantly developed in the on-site laboratory. The personal care products are sold to hotels, massage practices, pharmacies and directly via the internet shop. A large part is also distributed through organic retailers and world shops. The majority of the company's employees live in Swiss Bregaglia. After all, the added value should be created in and for the region. And in this way, SOGLIO contributes not only to a healthy development in the alpine space, but is also proof that peripheral regions can engage in economic and sustainable production at the same time.
Our consultation line is open from Monday to Friday, 08.00 to 12.00 and 13.30 to 17.30
opening hours store in Castasegna
Monday to Friday, 08.00 to 12.00
and 13.30 to 18.00.

opening hours store in Soglio
From June to mid October
Wed* / Thu / Fri / Sat, 11.00 – 17.00
*from July